The Department of Commerce was established with the inception of the College in 1981 and it is affiliated to the University of Kerala. In the year 2000, the Department has added a UG programme on B.Com (Computer application). Later in 2012, the Department has expanded further with another UG Programme (B.Com Co-operation). The Department is committed to groom young talents to take up challenges from the dynamic world of business. The Department is meticulously polishing its academic activities to keep abreast with the latest developments of the academia. In this direction, the Department is organizing conferences, seminars and workshops as part of her endeavors. As the Department houses almost one-third of the total strength of the college, the representation of commerce students in the college events is very high. The Department has immense pleasure in acknowledging a fully fledged teaching fraternity with good number of doctoral degrees and they are constantly upgrading themselves with Refreshers, add-on courses and orientation programmes offered by universities and other higher education agencies. In the year 2018, the Department has elevated to a Post Graduate Department with a P.G. Course of M.Com in Finance. Two of our faculty is Research Supervisors in University of Kerala and our aim is to become an approved Research Center of University of Kerala.
HOD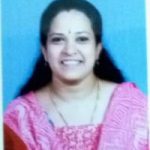 Dr. SREEVIDYA P. V.
sreevidyajayaram@gmail.com
M.Com, B.Ed. NET, Ph.D.